2.5/4

2.5/4

3/4

2/4

2.5/4

2/4

1.5/4

2.5/4

1.5/4

2.5/4

3/4

3/4

1.5/4

2/4

2/4

2/4

2.5/4

1.5/4

3/4

1/4

2.5/4

3/4

2.5/4

2/4

2/4

Next 25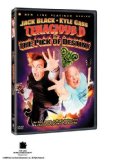 Tenacious D in: The Pick of Destiny
For nobody except Tenacious D fans
1/4 stars
"JB" (Jack Black) runs away from home after being spanked by his father (Meat Loaf). Years later, he finally makes it to Hollywood and comes across the greatest guitar player he has ever heard, "KG" (Kyle Glass).

After a little squabble, the two decide join forces and perform at an Open Mic Night at what appears to be a less than popular bar. To their shock, they don't do that good.

Back at their less than spectacular apartment, the two are trying to figure out what the legends of rock have that they don't while looking at some old magazines. It's only then that they realize that the guitarists on the covers have the same guitar pick.

While trying to look for a similar pick, an employee of the music shop (Ben Stiller, who is also the film's Executive Producer) tells him the ancient story of the "Pick of Destiny", of which they seek. This employee, who has long gray hair and thick glasses, also tells them that the pick, which was made from Satan's tooth, is in a history of rock museum.

Now the two pot-smoking losers with delusions of granduer goes on a music-filled adventure to steal the pick.

Let me say this up front, if you are not a fan of Tenacious D, which gave us the comedy actor Jack Black, then you should skip this one. I am not a fan of these two, and only watched it because it was suggested by Flixter.com.

The jokes, for the most part, produce silence more than anything. I laughed at maybe three of the jokes, and chuckled at a few others. Tenacious D is only for a certain audience, of which I am not.

This movie lags in numerous places, and this is where the worst jokes appear. And let me say that, when Black and Glass are not working off one another, they are completely lost on screen.

All the songs in this movie is by and performed by Tenacious D. Many of the songs perfectly advance the storyline by describing their adventures at the time in the film. However, I felt that the songs sounded too similar to be told apart.

Another problem with this film is that the language will turn off a lot of people. There are a lot of four-letter words in this film. There are also some drug references. I would not recommend this for children.

Part of Tenacious D's schtick is that Black is in your face, and Glass stays in his shadows for the most part. This is how they are in this movie, and it doesn't really work. Now, this may have been part of the act, but I felt that Glass just didn't want to be there. In one scene, he performs his (background) lyrics at a party and he just can't work alone.

Tenacious D are supposedly rock fans in real life, and have maybe two rock legends in the movie, I lost count because I was so bored with this film. Personally, I would have liked to have seen more rock legends and icons in the film. However, we don't get that.

What we do get is a movie filled with completely lame jokes, lots of foul language, a lackluster script. You also get horrible acting, and an unoriginal story. However, you get some pretty good songs that pretty much sound the same.

The story could have been promising, but many of the scenes appeared to have been added into the film at the last second. This is somewhat similar to The Blues Brothers movie many years ago, but the Blues Brothers had a much bigger following -- and two songs on the Billboard music charts. Tenacious D only has a small following, with a few HBO specials under their belt. And, unlike The Blues Brothers, the comedy is not well thought out at all.

If you are a hard core fan of Tenacious D, then I suggest you check it out. However, like most of the movie audience when this film was released to theaters, I would say avoid this one. Save your money on this one, folks.