2.5/4

2.5/4

3/4

2/4

2.5/4

2/4

1.5/4

2.5/4

1.5/4

2.5/4

3/4

3/4

1.5/4

2/4

2/4

2/4

2.5/4

1.5/4

3/4

1/4

2.5/4

3/4

2.5/4

2/4

2/4

Next 25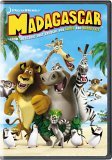 Madagascar
Fun for the entire family
3/4 stars
"Marty" (Chris Rock), "Alex" (Ben Stiller), "Gloria" (Jada Pinkett Smith) and "Melman" (David Schwimmer) are different species of animals who live at the New York City Zoo. They are best of friends who live in adjoining habitats.

It's "Marty's" 10th birthday, and he has only one wish. He wants to go to the wild. The rest of the group thinks the comical zebra is insane for wanting to leave the lap of luxury that is the zoo.

"Marty's" dream is bolstered by a group of militaristic penguins who are trying to dig their way to Antarctica. He then breaks out himself to head to Connecticut, which has a beautiful zoo apparently. So he starts to wander around the "Big Apple" to try to get to Grand Central Station to catch the express to Connecticut. But his three friends go after him, and catch up as he is about to board another train.

However, they are captured by New York's finest, and are shipped to Africa. But they don't make it to their destination, thanks to the penguins, who are, for some reason, also shipped to Africa. The penguins hijack the boat and head for Antarctica, but the other animals are accidentally thrown overboard.

They wash ashore on a beautiful island, which they think is the San Diego Zoo, and their adventure is about to begin.

The cast is great in this movie. All are pretty comical. The main cast is as close to perfect as you can get. In fact, the entire cast helps bring the characters to life and pretty memorable.

Thanks to the personalities each actor brought to their character, you almost instantly forget that you are watching a cast of animals. They are easily some of the most fun cast and characters I've seen recently. You will enjoy them.

The animation is great in this film. The colors run the entire spectrum and help bring the scenery to life. The characters are designed a bit cartoonish, which helps make the physical gags funnier. The animators got every minute detail, including the strands of hair and fur on the characters bodies.

Unlike a recent animated film I watched, which has a title I am drawing a blank on right now, this film has some great jokes for the entire family. Many of which only adults will catch on to. The kids who watch the film will like the slapstick, and, if they are old enough to understand, they will laugh at the puns that are sprinkled throughout.

The music goes from classics to original music made for the movie. And they are perfectly blended into scenes, including one that everybody should know that is placed into a rather silly moment. Some other songs help recreate moments in other movies that are humorously recreated in this film.

If you are more into Netflix than buying to add to your own personal library, this is definitely one to put on your "Must Rent" list. With the combination of a great cast, beautiful animation, funny jokes and visual gags, this is one to take a look at.