2.5/4

2.5/4

3/4

2/4

2.5/4

2/4

1.5/4

2.5/4

1.5/4

2.5/4

3/4

3/4

1.5/4

2/4

2/4

2/4

2.5/4

1.5/4

3/4

1/4

2.5/4

3/4

2.5/4

2/4

2/4

Next 25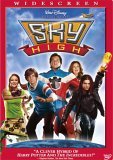 Sky High (2005)
A "super" cute movie
3/4 stars
"Will Stronghold" (Michael Angarano) is your typical teenager with the same problems all teens entering high school have -- except one. His parents are the greatest superheroes on the planet, "The Commander" (Kurt Russel) and "Jetstream" (Kelly Preston).

"Will" also has a unique problem that kids without super-powered parents doesn't have to deal with. It doesn't seem that he has any powers.

This is not really a movie about superheroes. It is, in fact, a new twist on the new kid in high school theme. It has every plot twist other high school movies have -- from getting on the wrong side of the school's resident bully, to realizing your best friend is the one you are destined to be with and the ever-popular party when the parents are away.

On the other hand, it is an adorable tribute to the superhero genre. A lot of the typical superpowers shows up, with some new ones. It has action and good, not fantastic (I so much wanted to say super, but wanted to spare you from the pun) special effects.

The writing gives the story a good blend of those two genres for you to watch. There are some good comedic moments, none of which are gut-busters. The cast does a great job making their lines and the situations believable. However, the majority of the adult performers give more campy performances than the teen cast, who give more serious performances. The two styles though blend very nicely.

One thing that is done well in the movie is the true identity of the villain "Royal Pain" (name of actor withheld to not spoil the surprise) is kept in the dark quite nicely. Clues to the identity of one of "The Commander's" greatest foes is peppered throughout the movie starting around the half-way point.

Another thing that this movie does well is make all the kids quite likable. That is, until the villains are revealed in the ultimate scheme of "Royal Pain" to capture "The Commander" and "Slipstream," as well as the students and faculty of "Sky High."

Certainly, this movie was meant to be targeted at the teen audience. Instead, "Sky High" is an adorable movie for the entire family that may be the start of a franchise if the studio is smart.