1/4

0.5/4

1.5/4

1.5/4

3/4

3.5/4

3/4

1/4

1.5/4

3/4

1/4

1/4

2.5/4

1.5/4

2.5/4

3.5/4

3/4

2/4

3/4

2/4

3/4

3.5/4

1/4

3/4

2.5/4

Next 25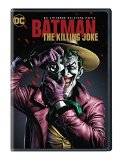 Batman: The Killing Joke
Batman: The Killing Joke - Movie Review
2/4 stars
Well this was a flat joke.

Batman: The Killing Joke is one of the best graphic novel ever written by Alan Moore. It's dark, haunting and really engaging. It took two iconic characters Batman/Joker and dissects the relationship between the two and how both of them tick. It's such an interesting storyline that was pulled off so magnificently. I'm not a comic book reader myself but I do consider the graphic novel to as brilliant. Word quickly spread that a movie adaption was on it's way and I sure was excited for it.

Bruce Timm and Sam Liu were directing. Mark Hamill, Kevin Conroy
Tara Strong and Ray Wise are set to star. It's based on the most beloved graphic novel ever.

What's not to get excited.

And then I saw the movie and I wasn't impressed. This was very disappointing since it had so much going for it, but somehow fell so short.

Barbara Gordon 30 minute prologue was by far the weakest part of the film. I know the creators wanted to add some character to her since didn't have that much in the comic. If so, It could have been so much better, because it added nothing to the movie and it did drag it down. I don't care about Barbara Gordon, I'm here to watch "The Killing Joke". At one point I was wondering when the actual film was going to start and it eventually dose. It would have been cool if we saw how the Joker broke out of Arkham, having extra scenes of Joker torturing Jim Gordon, or creating the death of Joker's wife that the book never showed, maybe even add a few more investigation scenes and conversations with Alfred. That would have easily covered the extra 30 minutes that was added.

Kevin Conroy and Mark Hamill both are once again brilliant as the characters. Their voices are so iconic to the character's that nobody could top the brilliance of Hamill & Conroy. It's no surprise that both are the best parts of the movie.

The animation doesn't look that good and I can't be the only one that thinks that. How much better would it have been if the animation was visually striking and more effort was put into it. There are parts in this where I thought the animation was pretty damn good and also parts when the animation was pretty bad.

Now lets talk about the most controversial scene in the movie that involves Batman and Batgirl having sex. Yes, that actually happens in this movie and it dose nothing with the main plot. The sex between them had no real emotion to it and it's only thrown in there to get Batman angry when Barbara gets shot. The Batman and Batgirl sex scene was like a creepy fan fiction that some die-hard fan would write or draw to satisfy their fantasy.

Overall rating: Batman: The Killing Joke is basically a giant middle finger to the fans who loved Alan Moore's novel. I never really felt engaged in the story and the emotional impact that was in the graphic novel is nowhere here. It was rushed, dull and very flat. Fans and Alan Moore deserve better.

I expected so much more from this and I think everyone did.