4/4

3.5/4

3/4

3.5/4

3.5/4

3.5/4

3.5/4

4/4

4/4

2/4

3.5/4

3/4

3.5/4

2/4

2.5/4

2.5/4

3/4

3.5/4

2.5/4

4/4

3/4

1.5/4

3.5/4

2.5/4

3.5/4

Next 21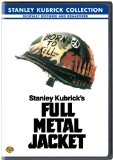 Full Metal Jacket
Full Metal Jacket
3.5/4 stars
The movie follows a young recruit from the boot camp to Vietnam. In this time he learns a lot and gets mean to the brutality of war and the preparation to it...

Stanley Kubrick is one of my favorite directors though I only have seen a few movies of him. Some people say he has two sides: the writer and the director´, and that he is only perfect in the second one. But in this movie both is perfect.The Screenplay is brilliant, it has so much to say about the Vietnam-war and still it had good dialogues in it. But it lacks in character development and in the middle the movie gets a bit long and slowly. The direction is perfect, especially the "sniper-scene".
It all fits.
The acting is average, except of R. Lee Ermey he is incredible as Sgt. Hartman. The way he is "bullying" the recruits is in one way funny but in the other way cruel and creepy.
The art-direction and the cinematography is brilliant.