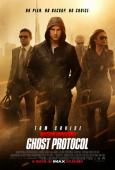 Mission: Impossible - Ghost Protocol
Decent, Action flick

Mission Impossible 3 is the latest installment of a well known spy franchise starring Tom Cruise. In this day and age it seems to be proving harder and harder for people to come up with new movies and while this was a decent movie it was another rehashing of a series that probably could should be wrapped up. Other than the fact that this movie didn't have original characters or an original premise it still had an interesting plot line and captivating action scenes.

The plot begins with a new character being shot immediately on the side of the street with no explanation. Later it is explained. The true main character is found in a Russian prison. The secret agent this movie revolves around, Ethan Hunt is broken out of a prison. After he's broken out the movie starts getting into its classic but repetitive rhythm. Ethan receives his mission in quite the same way as usual. A faceless voice from a screen with information tells him his mission, "should he except it" (which is an interesting way to say it considering he is a government employee, secret or not). There's a twist and the mission fails, Russia is bombed and Ethan Hunt and his crew are blamed and disavowed by the government. People died and Ethan and his crew now have to stop nuclear war… crazy. Next, the team goes to India and the world's tallest building where they attempt to capture the malevolent group planning to start nuclear war. This was my favorite part of the movie because of the dangerous looking scaling of the side of the building. There was also some good comedy. However, the bottom line is that after a car chase through a sand storm the bad guy got away and the team has to chase him again. The team finds the man responsible in time to witness him deploy a nuclear missile. After a crazy final fight in a vertical, circular parking garage Ethan Hunt manages to make the fired nuclear missile a dud that lands in the harbor just outside a city. Thus, the world is saved for another day. Ethan and his crew trade numbers and the road is paved for another movie….

My favorite aspect of this movie was probably the effects and technology used. There was a little less tech due to the fact that they were disavowed by the government but the stuff they did use was still pretty cool. Of course, following the super spy mentality they used plenty of high tech things that don't really exist. They used contacts with facial recognition software, a projector that made them pretty much invisible and gloves that gripped to the surface of the tallest building in the world. The effects were also pretty decent. There were tons of explosions and the occasional flipping car. They did good work.

All in all it was a decent movie with good effects and good actors. While I may disagree with making too many of the same movie series it wasn't a waste of money. If you enjoy action movies this is a good watch.