2/4

3.5/4

3.5/4

4/4

2.5/4

2/4

2/4

1.5/4

1.5/4

4/4

2/4

2/4

2.5/4

3/4

0.5/4

1/4

3.5/4

3.5/4

4/4

2/4

3/4

3/4

4/4

3/4

4/4

Next 25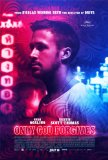 Only God Forgives
Depravity gets the Winding Refn treatment.
3/4 stars
Upon my first viewing of Nicolas Winding Refn's Only God Forgives, I was left startled by how preposterous, vile, cruel and downright sick it seemed to me. But, as many great filmmakers' works implicitly implore us to do, Refn's much darker and more philosophical follow-up to Drive begged a second viewing of me. And a second viewing startled me once again. This time, in a fortunate way.

Understand this, Only God Forgives is still a sick and vile and cruel film. It still makes me feel sick to my stomach and is extremely hard to watch, but that is also what is entirely fascinating about it.
Winding Refn is a very brave director, in the sense that: he is honest. And I respect him for that.
He made his film with about as much soul and dedication as any great classic director would have, such as Fellini his masterpiece Otto é mezzo.
Interestingly enough, they both share similar premises. Harried characters tormented by dreams, visions, responsibility and sanity.

The fractures of the director's genius are proclaimed through only the best of a director's tools: Cinematography, Storytelling and Editing.
It polarizes, yet amazes me how creative, well shot and edited and new this film's scenes can be. The dialogue acts only loosely as an advantage to the actors, who struggle very much to keep up with what I imagine must have been a very difficult shoot, but the outcome shows just enough of every actor's embodiment of their character, for me to be able to deem them astounding. Take that whichever way you like, positive or negative.

The moment in the film, where I still have trouble grasping its necessity is the torture scene. After having viewed the film three times now, I can sense a definite form of expression, and it helped to hear Nicolas Winding Refn's comments at Cannes, in which he stated that art is not always harmonious and beautiful, it has to come at you in a fierce way. At least he said something like that. I find that very true, as violence is a very necessary form of expression, but I still think the way the scene was filmed, with such unflinching force and ferocity, was a little too blunt and direct.
Other than that, I have no other outlying problems with the movie.

So, if you're one of those people who hate this film and think it is despicable, bloody and pointless, I don't blame you. You have every right to find this film nauseating. But out of this humble reviewer's perspective: Winding Refn intended for us to feel nauseated.
Think about it.
The extreme silences, the overly long and suspicious looks, the colors blue and red, the hands and pretty much every action of the characters is a reminder, a clue, an indication to the cruel consciousness that unconsciously plagues every one of us. That even though we are barely balancing between blue and red, heaven and hell, nirvana or perdition, good and evil or whatever, we can achieve to redeem ourselves only if we try to understand the cruelty of human nature and the justness of letting go of things we hold dear to us.

I humbly ask those of you who have seen the film to read the preceding paragraph once more.
Because just as I understood Only God Forgives and where it was coming from much better the second time, you too will most likely understand what I mean.