2/4

3.5/4

3.5/4

4/4

2.5/4

2/4

2/4

1.5/4

1.5/4

4/4

2/4

2/4

2.5/4

3/4

0.5/4

1/4

3.5/4

3.5/4

4/4

2/4

3/4

3/4

4/4

3/4

4/4

Next 25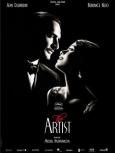 The Artist
Simple, honest, romantic filmmaking.
3/4 stars
The Artist. What do we know about it?
It gave international attention and acclaim to Jean Dujardin and Michel Hazanavicius, it swept the Academy Awards last year and it pissed off raging nerds everywhere, who complained it's just so beloved because it's in black-and-white and silent. It's more than that.

The definite strong point in the film is the acting. My word, two people I have never even heard of gave such praiseworthy performances, delving deep into the psyches of two troubled characters.
I am also very fond of the journey these two are on. I say 'journey', because that is the distinguishing difference between a silent film from the 20's and a silent film from 2011, because the script is better, therefore the character arches are better. It of course takes some liberties in regard to logic and realism, but when I was put into the scenes: I honestly didn't care. It was just done so flowingly.

One of the key-points I look out for in a film is atmosphere, if the film puts me into the moment, if we get involved with the characters and if it makes me feel like we aren't watching cardboard cutouts of a house. The Artist does this so well, I found myself giggling at how good it was pieced together.
At so many times was I reminded of films like 'Sunrise: A Song of Two Humans' or 'Modern Times'. It has a power that makes you feel involved.
For example, the tap-dancing scenes were worked on for five months, simply for our viewing pleasure.
Plus, the dog is adorable.

It's a creative and significant piece. Yes, it does bother me that it has so many plot holes and you have to wait for dialogue every minute, but its intention was clear.
It was made as an attempt to mimic and pay homage to the place where movies had their Golden Age, when people were experiencing the great new wondrous medium of cinema.
A treat for (almost) all cinema lovers, myself included.