2/4

3.5/4

3.5/4

4/4

2.5/4

2/4

2/4

1.5/4

1.5/4

4/4

2/4

2/4

2.5/4

3/4

0.5/4

1/4

3.5/4

3.5/4

4/4

2/4

3/4

3/4

4/4

3/4

4/4

Next 25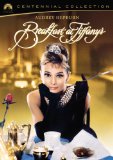 Breakfast at Tiffany's
The only chick flick I own on Blu-Ray.
4/4 stars
Breakfast at Tiffany's is my biggest Guilty Pleasure movie of all time.
I can watch this movie any time of the week. And if you think about it, it has a little bit for everyone, doesn't it? It has romance, it has comedy, it has a constant feeling of glowing. It just seems so comfortable. When jokes in movies aren't landing, but there still is a moment of silence where the audience is supposed to be laughing, I call it a sitcom without a laugh track. But here, even when it isn't funny, it feels like it is always flowing, coming along smoothly and letting the events sink into place.
Admittedly, it does have flaws. I'm not a big fan of the subplot of Holly's other identity back on her home farm, I just like the events that happen in the current, like the excellently-developed relationship between her and Paul and the scenes with her hilarious Asian landlord.
Aubrey Hepburn and George Peppard have Stunning chemistry; with a capital S.
That is the quintessential love status between a distinct pair of people, and it is pulled off elegantly.

What can I say? It's a movie for a rainy day, and I'm sure you wouldn't despise it even if you were forced to watch it. It's one of the few rom-coms I actually appreciate.