2/4

3.5/4

3.5/4

4/4

2.5/4

2/4

2/4

1.5/4

1.5/4

4/4

2/4

2/4

2.5/4

3/4

0.5/4

1/4

3.5/4

3.5/4

4/4

2/4

3/4

3/4

4/4

3/4

4/4

Next 25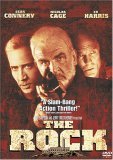 The Rock
Stupid movie is stupid.
1.5/4 stars
I don't understand how we're supposed to root for these characters when all they're doing is stealing vehicles and causing mayhem.

The chase scenes are filmed so… standard. It's just such a standard Hollywood action movie. Cut to shaky-cam and extreme close-up of Nicolas Cage's face. Cut to Hummers and Ferraris driving fast, hitting everything in their way. There are around five explosions in the opening chase. And of course everyone survives it and they stand up glamorously and we get our typical Michael Bay shot, where the camera goes around them while they stare heroically.
There is one scene in particular which is just riddled with Michael Bay-isms. He's famous for two things: Acting serious when you can't take it seriously and explosions.
In the scene, a marine and the general are shouting back and forth, almost like children for nearly ten seconds. THAT'S AN ORDER! I CAN'T GIVE OUT THAT ORDER! Comical.

This movie is built and stabilized on excuses. Excuses to bring the story forward. Everything has to be set up loosely and quickly so there's room for the opening chase scene and the scenes on the Rock.
I almost feel sorry for the guy who composed the music; it's such a dramatic score lapped over laughable scenes of quick shots and gunfire.
Poor Nicolas Cage has nothing to do here, with all the attention placed on anything but him.

It sticks to the typical Hollywood formula and has nothing new to offer. With bland and clichéd characters and quick, unfunny dialogue and horribly shot action scenes it achieves only an occasional sigh out of this viewer. It's a movie you can skip through and by the ending you won't have missed a thing.