2/4

3.5/4

3.5/4

4/4

2.5/4

2/4

2/4

1.5/4

1.5/4

4/4

2/4

2/4

2.5/4

3/4

0.5/4

1/4

3.5/4

3.5/4

4/4

2/4

3/4

3/4

4/4

3/4

4/4

Next 25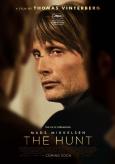 Hunt, The ( Jagten )
Heartbreaking filmmaking.
4/4 stars
This is a movie about justice. A real movie about justice. Not a cop gets criminal movie, but a movie about fear, judgement, vindication and morality.

Thomas Vinterberg's direction is stunning. Much is explored of what goes on in a child's mind, and how they behave and are affected by parental neglect.
I wouldn't describe this is a character study, but it does delve in deep into people's psyches, especially into Mads Mikkelsen, who delivers a performance so powerful on the outside, it makes me want to know what the character of Lucas feels on the inside and it is definitely worthy of its praise.

The whole premise just breaks my heart. He is easily on the level of likability as Andy Dufresne. He is a joyful person accused of something he did not do, and the movie is an undoubtable journey for me, as we see this character deteriorate and his sanity and happiness crumble.
It's so beautifully paced and Lucas' character is set up so well; I just love that nothing is rushed here.

The second half of this movie is one of the biggest tear jerkers I have ever experienced in a movie. There's nothing I can say to explain it, just watch the movie yourself.

This is so far one of the best movies of the year. With an Oscar-worthy performance in Mads Mikkelsen, an excellent script that takes its time by director Thomas Vinterberg and Tobias Lindholm, and the careful direction itself, this movie has the unique power of introducing an even better scene after the last for the majority of the runtime. A must-see, not only for movie lovers, but for everyone.