2/4

3.5/4

3.5/4

4/4

2.5/4

2/4

2/4

1.5/4

1.5/4

4/4

2/4

2/4

2.5/4

3/4

0.5/4

1/4

3.5/4

3.5/4

4/4

2/4

3/4

3/4

4/4

3/4

4/4

Next 25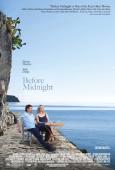 Before Midnight (2013)
A grounded, authentic romance.
3.5/4 stars
Even though romance is one of my least favorite genres and I have suffered my good share of terrible rom-coms and Twilight fan-fiction, I am proud to admit I finally found the perfect date movie.
This is an excellent romantic drama. It is funny, it is romantic, it is genuine and it is authentic.
The acting of Julie Delpy and Ethan Hawke is never over the top or overly romantic or in love. The delivery of lines is insanely entertaining, because this seems like an actual couple that would be married in real life.
The characters have such distinguished personalities and flaws, it's hard not to like them.
While this is not a movie for everyone, and certainly didn't seem like a movie for me going in, I never found myself bored. The majority of the movie is basically just them talking. Talking about their problems, talking about their love, talking about life and family. But it's not just their grounded conversations that intrigue me, but how well it is delivered. This is just the perfect couple. They love, the fight, the struggle, they laugh, they have actual emotions and aren't the stereotypical screen couple who always say the same recycled dialogue. Here, it's authentic and authenticity is what I love.

There are some surprising directorial perks in this movie. The frames are all perfect, no person feels out of place, even during just conversation.

This movie is the perfect argument that a romantic comedy that's about a real relationship CAN be good. You don't need a hopeless love that lasts for 90 minutes and then descends into nothing, this is and feels like an actual romance that can last a while, because it so brilliantly convinces us of how witty grounded characters actually can be.