2/4

3.5/4

3.5/4

4/4

2.5/4

2/4

2/4

1.5/4

1.5/4

4/4

2/4

2/4

2.5/4

3/4

0.5/4

1/4

3.5/4

3.5/4

4/4

2/4

3/4

3/4

4/4

3/4

4/4

Next 25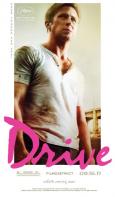 Drive (2011)
Excellent Blend of 80's, Action and Neo-Noir
4/4 stars
I love how implicit Drive was. What other films could not do for me with implicitness, this movie did perfectly. See, it took me a while to start liking this movie and several viewings, but by the third, I loved it. The first time I watched it, I thought: Okay, something new, very creative, I like it.
The Second time: Wow, there is actually a lot more to the story, plus the soundtrack is great.
Third time: OMFG ERMAGERD

On the outside, Drive may look like a bland, clichéd story, like the trailers made it out to be, but this movie has multiple layers. The shots and scenery are mind-numbingly beautiful, Ryan Gosling's acting is so creepy and sly that it gave me goosebumps and it's a sin this wasn't nominated for Best Adapted Screenplay, Best Music, Best Director, Best Cinematography or at least Best Production Design at the Academy Awards.

I can understand why mainstream audiences would be dissatisfied with this film, because it is more of an arthouse blend than a generic, mindless action flick. But out of Rambo and Drive... I'd pick Drive.

Many were conflicted with the fact that there are very minimal driving sequences in this film. There are two (both were stunning and well-directed). I think this isn't a movie about car chases. It's about character. Driver is simply a man who likes driving a lot, but that's not the point.
Just look at the intro again: He drives home, he gets home, he feels bored and he goes driving again. He simply loves driving!
The point (moral) of the story is: Any man, with any trait (for example being a good driver) can rise and redeem themselves to help others (Benicio and Irene).

This movie is production GOLD, everything just feels so comfortable and euphoric with an echo of Kavinsky always trailing at the right spots, that's undoubted, but what no one is praising, is the incredible script by Hossain Amini. The dialogue is smooth and delivered the right way at the right time, the timely events and chemistry between the chemistry is never rushed and will occasionally send a chill down your spine.

Drive is definitely an underrated marvel, which makes you feel the way it wants you to feel. It has a great cast, extraordinary direction and deserves to be recognized as a great neo-noir crime drama.