4/4

4/4

1/4

0.5/4

2.5/4

3/4

4/4

0.5/4

4/4

1/4

2.5/4

3/4

4/4

2/4

1/4

1/4

4/4

4/4

4/4

4/4

4/4

0.5/4

1/4

4/4

4/4

Next 25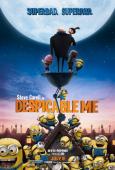 Despicable Me
One of my animated faves!
4/4 stars
Thanks to my daughter's fantastic navigation skills when it comes to finding things to watch on our pvr I got to see one of my all time favorite animated films for the 5th time. Despicable Me is one of those animated films that I get dragged to (literally) by my kids and end up enjoying it either more or just as much as they did. Our chief antagonist in the film Gru (Voiced by the always great Steve Carell) has his pride as a super thief and all around bad guy, hurt when he finds out that someone else has actually stolen The Great Pyramid Of Giza... Gru decides to out thief this guy and go after stealing the moon. He notices that his nemesis Vector has begotten the ability to steal the wonders of the world due to the fact he has manufactured his own shrink ray gun, which shrinks things of incredible proportions to pretty much something that would fit into your pocket. After deciding to do daily surveillance on Vector's lair he notices that the only persons that are given clearance so to speak, to enter the lair are 3 small girls who sell Vector Girl Scout cookies.

This gets Gru's maniacal wheels turning and it's not long before he finds out that the three girls are in dire need of parents as they belong to the local orphanage. Gru of coarse adopts them all in the guise of a dentist to continue his dastardly plan.

My kids will be the first to inform you all that I am really no fan at all to the animation realm however their are a good few that I see with them that are now in my list of best movies of all time. 'Depiscable Me' is one of those films I can watch over and over again!