2/4

2/4

2.5/4

2/4

3.5/4

2.5/4

2/4

2.5/4

2/4

2/4

2/4

3/4

3/4

3/4

2.5/4

2.5/4

2.5/4

2.5/4

2/4

2.5/4

2/4

2.5/4

3/4

3/4

2.5/4

Next 25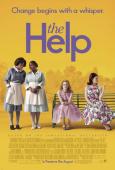 The Help
Don't Eat The Chocolate Pie!
3.5/4 stars
It is the late 1950's and an aspiring journalist Skeeter (Emma Stone) observes the inequities of the social strata and decides to write a book about the life of maids in Jackson. She knows what she is doing is against the law and has a hard time getting cooperation from the maids until finally she enlists, a reluctant black housemaid who eventually decides to reveal her story. Later the word gets out about the book and many more house maids decide to tell their story including Minny Jackson (Octavia Spencer) who was once in the employ of Hilly Holbrook, the most racist and insensitive of the bigoted white women.

Great cast of actresses in the form of the bubbly Emma Stone, a lively Jessica Chastain, a hateful Bryce Dallas Howard, the magnificent Viola Davis, the remarkable Octavia Spencer, the superb Allison Janney, the terrific Sissy Spacek and of course the wonderful Cicely Tyson. The character of Minny, though stereotyped, was a brilliant representation of black women in fear and under the thumb of not only their employers but their husbands, something that was so true at the time.

This movie will shock you, make you sad and warm your heart in a wonderful way. You might need two boxes of Kleenex tissues as you ask yourself: how can people treat people like this? While the movie is a very serious, and often sad, the story is also sprinkled liberally with humor especially the "special" chocolate pie that Minny bakes for Hilly. And despite it all, I still crave chocolate pie.