2/4

2/4

2.5/4

2/4

3.5/4

2.5/4

2/4

2.5/4

2/4

2/4

2/4

3/4

3/4

3/4

2.5/4

2.5/4

2.5/4

2.5/4

2/4

2.5/4

2/4

2.5/4

3/4

3/4

2.5/4

Next 25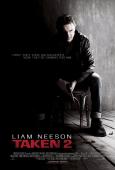 Taken 2
"I'm tired of this."
2/4 stars
This is the continuation of Taken and it picks up where the previous film leaves off with a group of men in Albania attending a funeral, mourning the men ex-CIA operative Bryan Mills (Liam Neeson), killed while searching for his daughter. During the ceremony, Murad Krasniqi (Rade Šerbedžija), the employer of the men and father of Marko, a victim whom Bryan killed by electrocution, states that they will find Bryan to avenge the deaths of their loved ones. He has strong connections and he wants Mills and his family to pay and is willing to forgive the fact that his dead son was involved in human trafficking.


As you might have guess, Liam Neeson once again plays the role of a stoic warrior with a mad set of skills, whose only weakness is a soft spot for his beloved daughter Kim (Maggie Grace) and ex- wife Lenore (Famke Janssen). His ability to transform from a gentleman into a killer still impresses me but this time around Bryan and his wife are taken and must rely on Kim's help to fix things.

The first Taken was more energetic and a bit more believable, whereas this one appears "unnecessary". Nevertheless Liam Neeson seems to make the most with what he's given - he is funny when he needs to be and a bad ass 110% of the time.