2/4

2/4

2.5/4

2/4

3.5/4

2.5/4

2/4

2.5/4

2/4

2/4

2/4

3/4

3/4

3/4

2.5/4

2.5/4

2.5/4

2.5/4

2/4

2.5/4

2/4

2.5/4

3/4

3/4

2.5/4

Next 25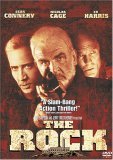 The Rock
Wham bam, thank you Sean and Nick….
3/4 stars
Nicholas Cage is an FBI chemical weapons specialist. Sean Connery is the British SAS officer who once escaped from the famed prison. Ed Harris is the Marine general who has seen Marines under his command get killed in combat without a military burial or benefits to their families.

With the aid of some Marines, he hijacks a bunch of chemical weapons rockets which he then places on Alcatraz Island with the cover of a large number of tourist hostages. He takes the civilians hostage, and makes a threat to the FBI: give the fallen Marines recognition or he will launch the deadly VX gas at his disposal, on San Francisco.

Connery and Cage form an impressive on-screen duo. Ed Harris, John Spencer, William Forsythe, Michael Biehn and Tony Todd deliver great supporting roles and Hans Zimmer`s music is engaging, An explosive thrill ride that is captivating from beginning to end!