2/4

2/4

2.5/4

2/4

3.5/4

2.5/4

2/4

2.5/4

2/4

2/4

2/4

3/4

3/4

3/4

2.5/4

2.5/4

2.5/4

2.5/4

2/4

2.5/4

2/4

2.5/4

3/4

3/4

2.5/4

Next 25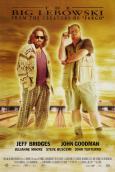 The Big Lebowski
The rug really tied the room together!
3/4 stars
Jeff Bridges plays The Dude – a seriously stoned bowler who suddenly finds himself embroiled in a world of kidnapping, extortion and violence after a group of Germans break into his house, mistake him for a millionaire, and soil his carpet. Realizing that they have kicked the proverbial 'crap' out of the wrong guy, they leave but all the dude wants is his rug back.

John Goodman gives an unforgettable performance as The Dude's (gun-) crazy friend and 'Nam' veteran with a chip on his shoulder. Julianne Moore is fantastic as the artist/feminist millionaire and Steve Buscemi filled the part of poor old Donny. JohnTurturro gives an outstanding interpretation of "Jesus," the perverted bowler which is worth the price of the DVD on its own.

Put on your Baja shirt, frayed boxer shorts, beach sandals, and sunglasses. Pour yourself a white Russian. Kick back and fire up the DVD and you'll be howling with laughter before you know it!!!