2/4

2/4

2.5/4

2/4

3.5/4

2.5/4

2/4

2.5/4

2/4

2/4

2/4

3/4

3/4

3/4

2.5/4

2.5/4

2.5/4

2.5/4

2/4

2.5/4

2/4

2.5/4

3/4

3/4

2.5/4

Next 25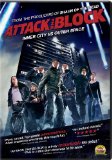 Attack the Block
Brit Scifi with a scrappy band of teenage hoodlums
2.5/4 stars
Attack the block is a comedy/horror/thriller action film about a gang of youths in South London who rob a helpless woman on her way home. A sudden explosion and something falling from the sky, allow the woman to escape. When the gang's leader, 15 year old Moses (John Boyega) checks what happened he is attacked by an extraterrestrial creature. He and his band of loyal followers slay the alien for attacking him and takes the body with them hoping to make a few pounds out of the strange creature. From there, things get really ugly when Moses and friends find their block under attack from these fuzzy ultra black extraterrestrials with neon blue razor sharp teeth.

~~Warning: Spoiler~~

There is lots of swearing and drugs references. Towards the end Moses blows up the aliens with an oven bomb. As he is thrown out of his apartment, he survives by grabbing onto the British flag he keeps on the patio rail. The ending of the film will leave you feeling a tad sorry for Moses. He is a mugger and yeah, they rob people, but there is a deep social message trying to be made here.
The music is good and there are lots of blood, gore and great pop references to playing FIFA.