2.5/4

2/4

2/4

3/4

2/4

3.5/4

2/4

N/A

3/4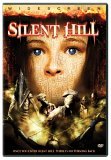 Silent Hill
Best of the Bad
2/4 stars
Film adaptations of video games suck. They always are not even bad, but also painful to watch what have the game we knew and loved became. Even put Uwe Boll out of the question, consider Super Mario Bros (1993), Street Fighter (1994), Mortal Kombat (1995) and Doom (2005). Silent Hill is no masterpiece and is quite stupid in terms of plot, but it still easily be the best of film adaptation of video game I have ever seen.

A couple adapted an orphan girl, and when that girl become 9, or 10, she sleep-walks and screamed "Silent Hill" in her unconscienceness. Her mother took her to Silent Hill the ghost town, and experience the haunting there.

If you examine the plot more closely, it is stupid. But this film is not about the plot, but the visual and re-enactment of the scenes from the video-game. It adopted the original score, re-enacted the car crash scene, and the outlook of the town is faithful to the game. I found it creepy the first time I saw it and I have never played the game back then.

I can understand gamers considered that it differs from the game. In the film, Dahlia is a mother that wanted to protect her child, and all townfolks wronged her child. In the game, silent hill is a town the draws sinners to face their own sin by witnessing and facing monster that resembles their own guilt. The film lacks such deeper meaning, and just about a women seeing some creepy stuff.

The film is not as good as the game, yes I totally agree with that. But Silent-Hill fans should be grateful that at least the film captured some of the feel of the game. I am a Max Payne fan and look what it became. A fucking trainwreck. As far as video game adaptation goes, it is not bad.