0.5/4

0.5/4

1/4

2/4

2/4

2.5/4

3/4

3/4

3/4

3/4

3.5/4

3.5/4

4/4

4/4

4/4

4/4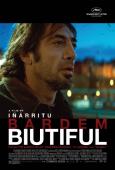 Biutiful
Sploich Reviews Biutiful (2010)
2/4 stars
I've been hearing a lot of buzz about this film for a while now and decided to finally go see it. Having now seen it, I really don't know what to do with the fact that I've seen it. I left the theater kind of bummed out but feeling as if I had watched a really good movie at the same time. The film I am referring to is Biutiful.

The film centers on Uxbal (which is said constantly throughout the film and yet I still don't know how to pronounce it), a man who has recently discovered that he is dying of prostate cancer. He makes a very meager living helping run an illegal group of migrant workers as well as using his special ability of being able to talk to the dead to help souls move on. He lives with his two kids but is constantly being interrupted by his ex-wife who wants desperately to be with her children. Basically we start off with him in a terrible position that can only possibly get worse. And trust me, it does.

This is yet another film entirely devoted to showing off the outstanding acting talents of Javier Bardem. He gives a phenomenal performance as a father who wants to protect his children but knows that he doesn't have much time left with them. The pain and suffering that his character has to go through is very heartbreaking and Bardem sells it all the way. All around the acting is pretty solid, even down to the kids who become very likable and real. It's kind of disappointing that Maricel Álvarez hasn't been getting any attention for playing Uxbal's ex because she gave a really great performance as well.

As you can probably assume, the story here is incredibly depressing. The film is constantly throwing more and more on top of Uxbal and never lets up. The ultimate payoff of the film is a little confusing and ambiguous, which frankly doesn't work well in a movie that's such an utter downer. There are also some really bizarre scenes in the film, though I can't decide if the most awkward is one of the very first scenes of the film or one that comes later in a strip club. Either way, the movie goes into some weird territory. I don't know, it could be a cultural thing, but if it is then I have to say that Spain is a very weird place. I think the most confusing aspect of the film for me however was the inclusion of Uxbal's psychic powers. If they were simply integral to the theme of the film then I don't understand what it means and if it isn't then I don't understand why it was in the movie in the first place. If you'll notice, I intentionally brushed over that fact in my summary above because that's exactly what they do in the film. They establish that he has powers but they never really seem to have that mean anything.

Biutiful is a decent film with some great acting and an intriguing story. The plot uses some unique ideas but when it comes down to it I just had a hard time understanding the point of it all. I do recommend the film, although you need to remember that it's a foreign language film with subtitles. If that's too big of a problem for you then I can't say I'd urge you to deal with it just for this film.