2.5/4

2/4

1.5/4

1/4

1.5/4

1/4

2.5/4

3.5/4

3.5/4

2.5/4

4/4

2.5/4

1/4

1.5/4

2.5/4

2/4

4/4

1/4

1.5/4

4/4

1.5/4

1.5/4

3/4

3.5/4

3.5/4

Next 3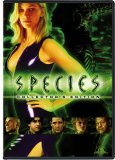 Species
Solid Science Fiction Fun
3/4 stars
Species is certainly a B movie yet it has an excellent and recognizable cast of very skilled actors. In fact it might be shocking to find names such as Ben Kingsley, Alfred Molina and Forest Whitaker among the films stars. The basic concept of the film is simple - Two decades ago scientists sent a message into space and this is there reply. This also happens to be the films tagline. One such reply includes detailed information on how to splice Alien DNA with our own. The government, as incompetent as ever, decides it wise to proceed and experiments with combining the extraterrestrial DNA with our own. Eventually, realizing the risks this presents, they decide it best to terminate the project. Of course not all goes to plan and Sil manages to escape into the chaos of Los Angeles.

As a result a team of supposed experts is assembled to track her and prevent her from breeding. You'll often find yourself laughing at the "experts" because nothing seems incredibly hard to figure out and yet it takes them quite awhile to catch on. Despite this they always manage to remain only one step behind as the try to catch up to Eve before it's too late. It's not worth trying to understand all the scientific aspects of this films' logic. Certain aspects make sense while others will certainly have you question the film but it really isn't anything worth getting worked up over. It certainly won't distract you from enjoying the film.

The cast, as previously mentioned, it composed of very talented actors. They balance rather well as an ensemble in the film, playing off each other quite nicely. Natasha Henstridge does a nice job as Sil in her first feature film. I suppose it is convenient that the alien in question happens to be an attractive woman in her young twenties. It is interesting that despite her rapid growth she stops maturing at that particular age. It is of course never explained in scientific terms why this occurs although I think its fairy obvious what led the filmmakers to this decision.

The design of "Sil" is from the mind of H.R. Giger. H.R. Giger should be recognizable to sci-fi fans as the creator of the Xenomorph from 1979's classic Alien. He also designed the Ghost Train from Sil's nightmare in the film, a sequence that MGM originally opted to cut from the film to keep costs down. Giger however believed the scene to be necessary and financed it himself. Necessary – perhaps not, but certainly interesting.

My one question while watching the film is who sent us this new sequence of DNA? When the team proceeds to grow the alien DNA without our own it is nothing more than a vicious and slimy creature. Surely, this can't be the same being intelligent enough to receive and respond to out original transmission. "Sil" even questions who and what she is at one point in the film and Dr. Baker (Helgenberger) wonders which is the predatory half. The focus of the film though is clearly on the action and little time is spent trying to figure out what it is we are truly dealing with or where it came from.

While Species might not be a great movie it certainly is a glorified B movie that makes for a fun time. The film has a nice pace to it having clearly placed an emphasis on action. The logic of the film is certainly questionable at times but it's really just best just to go along for the ride. The film has an A rate cast and provides solid entertainment. A definite must for fans of the Sci-Fi "Creature Feature" genre.