2.5/4

2/4

1.5/4

1/4

1.5/4

1/4

2.5/4

3.5/4

3.5/4

2.5/4

4/4

2.5/4

1/4

1.5/4

2.5/4

2/4

4/4

1/4

1.5/4

4/4

1.5/4

1.5/4

3/4

3.5/4

3.5/4

Next 3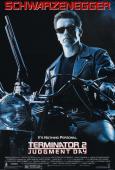 Terminator 2: Judgement Day
He's Back!!
3.5/4 stars
Terminator 2: Judgment Day set a new standard for summer blockbusters when it exploded onto the scene in 1991. Taking place ten years after the original film, a new and more advanced killing machine is sent back in time in an attempt to eliminate John Connor. The humans have reprogrammed Arnold Schwarzenegger and he is sent back in time to protect him from termination.

As far as the story goes, we find John Connor living with foster parents and his mother locked away in a mental institution. John has only vague memories of his mother and she is busy trying to convince anyone who will listen about the impending judgment day. Unfortunately for her, no one believes her. It isn't long before the T-1000 arrives to make sure neither of them survives to see it.

The T-1000 is absolutely awesome!! It was a concern at the time because if these special effects didn't work the movie wouldn't be anything close to what it is. Of course it worked out just fine and Robert Patrick does a great job in the role. Arnold's turn as the hero works well in the film and the chemistry between him and John Connor is excellent. John Conner is a little annoying from time to time but that is to be expected of a kid his age I'm pretty sure.

My only gripe with the film is the rather slow middle section after they first escape from the mental institution, and the liquid terminator. There is very little energy and the voice-overs from Sarah Connor don't do anything to move the story along. It almost feels like an intermission between the first and second acts of the film. Once the second act starts however the film never lets up.

There are many inconsistencies with the core logic of this film and the Terminator film as a whole. We learn that the technology from the first terminator led to the advances that would eventually result in out judgment day. So if the first terminator were never sent back in time there would be no future ruled by machines? Of course, John Connor would have never been born if Kyle Reese hadn't been sent back to protect him from the Terminator and yet he already existed in the future.

The flawed logic won't stop anyone from enjoying this film however. Many consider it to be the best of the Terminator franchise. I have always preferred the original but this is certainly a close second. The action is great, the special effects are fantastic and the T-1000 is very badass. The special edition of the film runs fifteen minutes longer and includes a brief appearance by Kyle Reese. This added footage though is ultimately inconsequential to the film as a whole. Terminator 2: Judgment Day is a great sequel and an excellent action film.