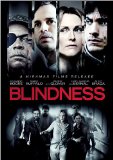 Blindness
An OUTSTANDING movie!

I just saw this movie yesterday. I was very much moved by it. It played on many different themes:

How precious sight is to our everyday life;

How a person with sight among blind people has almost "godlike" power;

How when placed in such a situation we can descend into a "Lord of the Flies" existence;

How we can find something deeper and more precious through such struggles.

Like many others, I was a bit angry that Julianne Moore's character waited so long and late to act. She did not murder anyone. She EXECUTED a vile criminal in the absence of law of any sort. I know she is playing an utterly decent woman who is trying to be fair to all, but to allow the rapes and near starvation when she could have changed things is unfathomable...unless it is being used as a plot device to make us feel more intense about all that was being suffered, to hate the villains more, etc.

The ONE plot gap that I didn't understand was why she wouldn't have offered herself up for medical study, since for whatever reason, she was apparently immune.

I cannot believe that some organization for blind people was offended at this film! This was not about how normal blind people act, but about how people who are suddenly thrust into a new existence--an existence without the common courtesies and necessities of civilization--can behave. It never once occurred to me that "blind people are bad." Rather, I realized how civilization can breakdown and erode when some infectious disease--especially one that steals away our most used sense--breaks out.

I was pretty much glued to this movie. It was a little too stark in some places, but much of it rang real--how you would really expect things to shape up: Some would descend into evil...others would go with the better angels of their nature and act on behalf of others.

A VERY GOOD movie.