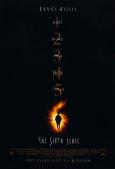 The Sixth Sense
Seemingly predictable, with unpredictable end

The Sixth Sense, starring Haley Joel Osment and Bruce Willis, is a thriller that keeps the viewer guessing until the very end of the movie. The disturbing beginning shows Bruce Willis, a child psychiatrist, shot by a former patient. The screen immediately goes black, and resumes showing Willis taking notes on a peculiar young boy. Willis shadows young Osment in order to help this terrified boy. At first, Willis could not quite figure out what was wrong with this boy, but as they spend more time together, the truth begins to come out of shy Osment. He admits that he sees dead people everywhere and Willis suggest a solution to the problem. Instead of being scared, Willis advises that he should help these troubled people. In doing so, the story ends by revealing that Willis was in fact dead during the entire movie. After this was revealed, the somewhat obscure details and ambiguous parts of the story begin to make sense.
This movie was greatly written to intrigue the viewer to search for more details every time it is watched. The creepy apparitions that appear throughout the movie gave me night mares, but the enjoyable and emotional end triumphed over my fear. A minute detail that can be observed throughout the story is the avid use of the color red. Whether it be the color of the church door or the color of small Osments' mothers' fingernails, this color signifies an important part of the story line. The plot of this movie keeps the viewer guessing until the end, when everything finally comes together and the viewer can finally see the whole picture of the film.