3.5/4

3/4

3.5/4

2/4

2/4

2.5/4

2.5/4

3/4

3.5/4

3/4

3/4

4/4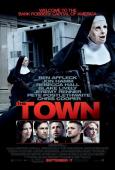 Town, The (2010)
Cliched script, but who cares?
3/4 stars
The Town is a very clichéd screenplay. From the beginning of the movie there's plot points that make us think that this might as well be the awful Takers. But there is one thing that saves it. Characters. Ben Affleck handles every character so well that you are completely taken into their lives and you don't care that you're following them through a recycled plot.

The Performances are great. Jeremy Renner gives the best performance I have seen of his career – yes, I liked him even better than I did in The Hurt Locker – despite that he's playing another Clichéd element of the screenplay. Renner tones down the character and makes it feel so much more genuine. His performance is the base of all the other supporting characters, such as Blake Lively. Chris Cooper shows up for a brief role and gives the usual Chris Cooper performance, but, as usual, it's the exact performance the character needs. The weakest character is John Hamm as FBI Agent Adam Frawley. The character is cartoonish and does not belong in the movie. That leaves the two lead performances. Ben Affleck and Rebecca Hall. The latter did well, especially being the only character that is actually supposed to be likeable, rather than sympathetic. Affleck was average and perhaps should not have casted himself but rather his brother in the lead role once again.

However, Affleck is still the star of the movie. Not in front of the camera, but behind. The movie has a fantastic visual style and is paced as well as anything out this year. The crime elements themselves are perfect. Even with a plot we've seen before, we still care and are on the edge of out seat all the way through. Affleck shows us the we should expect him to be one of the premier thriller directors of the future.