3.5/4

N/A

4/4

4/4

4/4

N/A

N/A

N/A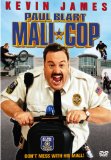 Paul Blart: Mall Cop
Mall Cop- Funny Comedy
4/4 stars
A really funny movie. And everything in the classic Kevin James style.

Paul Blart is a security guard at a big mall, somewhere in USA. He has a very calm job, not many cases to investigate. He is, frankly, a loser.
But he gets a crush on a girl that is working in the mall. One night, right before closing time, robbers on skateboards enter the mall. They take the people that are in the bank at that moment to hostage. Paul is the only security guard in the mall right now. He has to save everyone. He does good, and get three of the robbers out of the game.

It all ends with a car chase, and then he takes them under arrest.

Watch this movie if you can!