3.5/4

N/A

4/4

4/4

4/4

N/A

N/A

N/A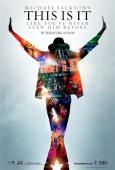 Michael Jackson's This is It
Michael Jacksonsīs This Is It- Event Of A Lifetime

Michael Jackson was born 29th August 1958 in Gary, Indiana. His father worked at the steel plant, and his mother, like all mothers did in those days, worked at home. Joe Jackson, his father, was in a small band. They used to reherse in the livingroom of the familys home, and play on local clubs and bars.
All went on, and everything was good. Until one day. Joe came home from work, and told his family that he had lost his job at the steel plant. Now they had nothing to make money on. The gigs with the band didnīt usually pay off so good, and they didnīt have any savings left.
It was hard days.

But one day, when 3 year old Michael was making his bed, his mother Katherine heard him sing for himself. She ran off to Joseph and told him that their son can sing. At first he thought that little Michael was too young, but then when he listened to him, he had a sparkle in his eye. He could smell money and success.
So he started training the boys, and soon they were a real group, ready to make performances. They continued to perform and became rich and famous all around the worl.
That was the beginning of the world greatest artist ever.

And here it is. Michael Jacksonīs This Is It. A view into his genius. His musical gift and talent. See Michael Jackson live in your livingroom, and enjoy the event of a lifetime.