3.5/4

3/4

4/4

3.5/4

3.5/4

4/4

4/4

4/4

4/4

2/4

2.5/4

1.5/4

2/4

2/4

3/4

1/4

4/4

1.5/4

0.5/4

3/4

4/4

3/4

4/4

3.5/4

3/4

Next 25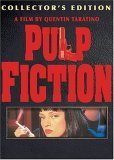 Pulp Fiction
"Oh, I'm sorry did I break your concentration?"
4/4 stars
Although Quentin Tarantino is considered by many to be one of the most influential and innovative filmmakers of all time, some of his films don't tend to sit well with a small majority of people. That small majority are the same people who don't like Kill Bill, Reservoir Dogs, or Inglourious Basterds. But no matter who you are, you have to love "Pulp Fiction." It happens to hold the number one spot on mine, and many other film fanatics' lists.

Like Tarantino's theatrical debut "Reservoir Dogs", "Pulp Fiction" is a truck load of intertwining stories, clever dialogue, violence, drugs, and Tarantino fucking around with chronology. The film takes place over the course of two days, showcasing stories that involve two hitmen, a boxer, a robbing couple, a crime boss, and the crime boss' wife. Each story contributes to the other as they all intertwine.

Tarantino's dialogue is just as brilliant and entertaining as its made out to be by just about everyone who's seen and/or talked about this movie. The scenes with the dialogue are all fun to watch and keep you engaged. There's not much else to say except its pitch perfect.

The acting in the film is also excellent. My favorite performance in the whole movie is easily Samuel L. Jackson as Jules. He's so outrageous and such a powerhouse, he's just such a screen presence you can't take your eyes off him. Other notable performances include John Travolta, Uma Thurman, and Bruce Willis. Even actors with smaller roles like Harvey Keitel and Tim Roth are excellent. Then again, its Harvey mother fuckin' Keitel and Tim fuckin' Roth. You can't get much better than that.

Perfect acting. Perfect story. Perfect dialogue. Perfect everything. The greatest movie of all time.