3/4

3/4

2.5/4

2.5/4

3/4

3/4

2.5/4

2/4

3/4

2/4

3/4

3/4

3/4

2.5/4

3.5/4

2/4

3.5/4

3/4

3/4

3/4

2.5/4

3/4

2.5/4

2.5/4

2/4

Next 25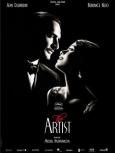 The Artist
The Academy Has Spoken
3.5/4 stars
George Valentin is a silent film actor who refuses to "talk" in the movies. As he meets Peppy Miller, a dancer, a great shift on his career comes his way.

***
The reason why it won the OSCAR Best Picture is that this film stood out among the the rest of the nominated films that year. It's uniqueness (which is not actually new) made the jury voted in favor of this silent film. Even it used an old cinematic technique, it was able to give equivalent entertainment as to the modern action/scifi/animation films today. However, I got confused whether the "silent film" meant muting the voices, or relying totally on the movements of the actors?
Story wise, it was decent. The story is clear even with the absence of dialogues. The actors are very good! Jean Dujardin deserved his awards here, though I would pick Bejo's scene hugging herself with George's suit as the best scene of the film.