3.5/4

3/4

2.5/4

3.5/4

1.5/4

2/4

3/4

3.5/4

4/4

3/4

3.5/4

3/4

2.5/4

3/4

2.5/4

3.5/4

2/4

3/4

2.5/4

3.5/4

2.5/4

3/4

3/4

2/4

3/4

Next 25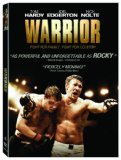 Warrior (2011)
Action-Packed, Full of Love
4/4 stars
Tom Conlon returns home and joins a mixed martial arts event, approaches his father to train him. Brendan Conlon is a physics high school teacher who, when his mortgages stumblr, forced to get back on the world of MMA. These two brothers will fight for reasons.

***

Wow! Didn't expect this could be this good. Very good family story, and amazing action. Very moving and touching. This film is one of those films which made your heart skip a beat because of too much tension from all the actions, and felt warm because of the drama behind all those actions.

Brilliant execution too! Goosebumps came around when those marines give chants to Tommy. And yes, the final scene scored high, ending a movie with a touching and moving act from the two leads (I hated it when suddenly credits started to roll).