3/4

4/4

3/4

3/4

3/4

3/4

3/4

1.5/4

4/4

4/4

2.5/4

4/4

2.5/4

3.5/4

2.5/4

0.5/4

3/4

2.5/4

2/4

2.5/4

2.5/4

2/4

2.5/4

3/4

3.5/4

Next 25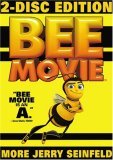 Bee Movie
Good kids animation, needs some refinement though.
2.5/4 stars
I just recently watched Bee Movie. When I first saw the promos for it I didn't have really high expectations for it. I knew that because Dreamworks was putting it out there would be a few things that I could expect:
#1 The animation quality would be top notch
#2 The effects would be very good
#3 There would be a number of big name actors providing voices for the movie.
The reason I didn't go out and watch it in the theaters was actually because of the way that the film was promoted. Actually I should say the way the film was "over-promoted". There was a while there where you couldn't see Jerry Seinfeld appearing on the screen for whatever reason and suddenly he would add the "go watch Bee Movie". The over hype of the movie made me decide that the producers were so nervous about how it was going to do that they decided to cram it down everyones throat. Honestly I think the movie could have done better had it been less hyped. Think back to when Shrek was released to be honest I don't remember all that many promotions for it, and it turned out to be one of the best animations ever.
My expectations of Bee Movie were pretty accurate, the animation was incredible, the effects were really well done, but the story line was really quite weak.
While a number of years ago it was cool to have all the actors come in at their own time and do voice recordings and then add them together in post production to make the film flow, but when the end result sounds like the actors had never really worked together then you have an issue. The best example is the initial interaction between Barry (Seinfeld) and Vanessa (Zellweger), it sounded so forced that it made the scene seem more awkward than entertaining.
I think that some of the scenes needed to be reworked in a number of ways, for a professional animation there seemed to be a number of missing scenes that may have tied things together a little better. Over all its not a bad movie, its definitely one that kids will like.