3/4

4/4

3/4

3/4

3/4

3/4

3/4

1.5/4

4/4

4/4

2.5/4

4/4

2.5/4

3.5/4

2.5/4

0.5/4

3/4

2.5/4

2/4

2.5/4

2.5/4

2/4

2.5/4

3/4

3.5/4

Next 25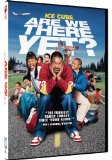 Are We There Yet?
Leave this one and go watch Friday instead
2/4 stars
"Are We There Yet?" is a so-called family comedy that is about a hotshot sports shop owner named Nick (Ice Cube) who hates children but loves the ladies. One day, after he buys his brand new Lincoln Navigator, Nick falls in love with Suzanne Kingston (Nia Long) who works across the street from his work. Nick tries everything he can to get a relationship started with her but she seems very uninterested. Until when Suzanne needs him to bring her daughter Lindsey Kingston (Aleisha Allen) and her son Kevin Kingston (Philip Bolden) to Vancouver because she has to leave today or she loses her job and her ex-husband is now sick and refuses to take the children while she is away. So Nick offers to take the kids to Vancouver but little does Nick know that her children do not want their mommy involved with any other man then their dad because they know that he is going to come back to them soon. So Nick is in for a trip of a lifetime and comedy supposedly ensues.
Ice Cube seems to have a few different characters, either the bad ass (which he doesn't portray very well), the lazy stoner (which he does a damn good job at), and the "every-guy" (which he is also pretty decent at). This is one of his "every-guy" type of movies, and he does the part fairly well. Unfortunately the story line of the movie is just horrible. I know it is supposed to be a kids movie but this one seems to rip off a number of different genre's and mash them all together to try to put together something entertaining. The kids are pretty annoying, and they don't really mesh well with the concept of the film.
The fact that there was a sequel put out after this makes me dumbfounded. Some kids might like it, but the ones that I know that have seen this movie are all doing their best to avoid admitting that they have seen it.