3/4

4/4

3/4

3/4

3/4

3/4

3/4

1.5/4

4/4

4/4

2.5/4

4/4

2.5/4

3.5/4

2.5/4

0.5/4

3/4

2.5/4

2/4

2.5/4

2.5/4

2/4

2.5/4

3/4

3.5/4

Next 25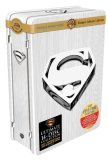 Superman IV: The Quest for Peace
Just terrible!
0.5/4 stars
This was the worse of the Superman movies, it was just plain awful. I can't express enough how bad the movie was... but I'll try. Superman IV is not a good movie. It has an intriguing concept at it's heart, Superman ridding the world of nuclear devices, but everything around that central idea is just a complete mess. Many of the outstanding aspects of the previous films are just shoddy this time around. The special effects are abysmal, with many generic elements of Superman flying reused over and over again and almost none of it is believable. The action sequences, what few there are, are unspectacular and barely raise your pulse. The film, on the whole, has a rushed and half-complete feeling to it, and you get the impression you are watching a movie made on the cheap, not the latest sequel to a successful, multi-million dollar grossing franchise.
According to screenwriter, Mark Rosenthal, Cannon cut the budget down to a crippling level, and the proof is on the screen immediately with Superman IV's "power point" credits sequence, and let's not forget the one shot of Superman flying right at the camera that gets recycled no less than three times throughout the film. The loving attention to detail that sold the effects in previous entries? Richard Donner's "Versimilitude"? Gone. Sold out to Cannon's low-budget economy. And what about the epic disasters that Superman averts? In the first film he fixes the San Andreas fault, keeps Air Force One in the air, chases a rocket across the US, catches a helicopter, and reverses Earth's orbit. Here, in Superman IV, the man of steel stops a train by stepping on the subway track.
This is just pain horrible! Forget it was ever made, and stick to the first 2 for good action, and watch 3 if you need a laugh.