3/4

4/4

3/4

3/4

3/4

3/4

3/4

1.5/4

4/4

4/4

2.5/4

4/4

2.5/4

3.5/4

2.5/4

0.5/4

3/4

2.5/4

2/4

2.5/4

2.5/4

2/4

2.5/4

3/4

3.5/4

Next 25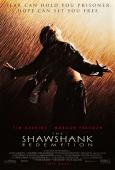 The Shawshank Redemption
Get Busy Living, or Get Busy Dying.
4/4 stars
I have watched this movie at least once a year if not more since its release in 94. The story is untouchably one of the best I have ever seen for a screenplay. As straightforward prison drama it is head and shoulders above others of its type - an epic story told with sensitivity and emotion, superbly acted and brilliantly shot. What makes what would have been a good film into a great one is the subtexts and themes which run through it that allow the viewer to actually think.
Everyone that watches this film becomes a part of it. You are there, in that prison, suffering when Andy does, smiling when Andy does. Tim Robbins plays this part so well it could be classed in one of the best lead parts in a film ever. The cast of Morgan Freeman, Wiliam Saddler and the rest couldn't have been better selected.
This movie will go down as a classic that people will enjoy for many generations to come.