3.5/4

4/4

3/4

2/4

1.5/4

1/4

2/4

3/4

0.5/4

3.5/4

2/4

1.5/4

3/4

3.5/4

0.5/4

1.5/4

3.5/4

3/4

3.5/4

2.5/4

2/4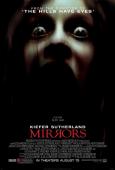 Mirrors (2008)
A Lot of the Wrong Things
1.5/4 stars
So I decided that I was going to watch a good horror movie. I rummaged through my mom's DVD collect and found Mirrors. I thought for a moment, "Hey! This could actually be good." Nope, I was wrong. Guess what guys, another sucky horror movie. Surprise!

The story for the movie was at least a little unique, save for the fact that the movie was a sad excuse for a remake. Keifer Sutherland, who we all know as Jack Bauer from 24, was playing a character who acted... like Jack Bauer from 24. Wow! What a jump! But hey, I'll give him credit, he's good at that. Hell, even the filming was like 24. The camera angles and the other characters were all basically in a cracked version of 24. Unfortunately, I grew out of that phase, which made the movie almost hard to watch.

The acting in the other people in the film was actually decent, save for a few scenes, but I could live with that. This acting made the overall feel of the film OK. There was nothing too special about anything in the film. Everything stayed together, but there was nothing fantastic about the film that made me love the idea of the movie.

The Mirrors might be good for people that like 24, but other than that, I would avoid the movie. There's nothing good that could come from watching the movie, and I wouldn't want the unpleasant experience of watching the movie again.