3.5/4

4/4

3/4

2/4

1.5/4

1/4

2/4

3/4

0.5/4

3.5/4

2/4

1.5/4

3/4

3.5/4

0.5/4

1.5/4

3.5/4

3/4

3.5/4

2.5/4

2/4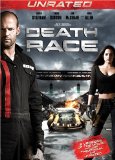 Death Race
Good Action - Lacked Story
2/4 stars
With action, action, action, and a very small bit of drama, Death Race is good for any action that likes their story to have a very, very small helping of something else on the side.

The story of Death Race follows a man accused of murdering his wife. He is to take part in a race to gain his freedom, and he'll be racing as the role of Frankenstein, a masked racer who was killed on the operating table after crashing during his last race. Although the story was given well and very simple, I hard a hard time following it. Except for high action scenes, I didn't really watch to movie because I found those scenes to be boring. The boring scenes didn't last very long, however, and the action scenes lasted a really long time.

Now the characters were the worst part of the movie. Most of the characters were very bland and had very predictable personalities. Because of their behavior at the beginning of the movie, you could tell who was going to survive to the end of the movie. Also, the way some of the characters interacted seemed forced or sudden. All of a sudden, two of the characters became buddies through one race when they hated each other before the race started. There was no real character development there, but they needed to movie the story along.

One of the things I loved in Death Race was the special effects. The explosions and car designs were wonderfully done. The blood throughout the movie brought out a lot of the black colors and made the movie seem a little more realistic that the acting.

Overall, Death Race is good for action lovers. If you're looking for story with the action, don't watch Death Race or you'll be sorely disappointed.