0.5/4

4/4

4/4

4/4

4/4

3/4

0.5/4

2/4

0.5/4

0.5/4

4/4

1.5/4

2/4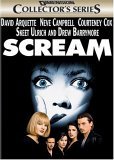 Scream (1996)
Screams of Joy
4/4 stars
Scream was one of the best horror movies I've ever seen.

The story for Scream, although a bit typical for horror movies, is wonderfully put together and brought out. The script was written very well, and the story progressed in a way that made sense. Through the movie, I tried to guess what would happen next. Half the time, including the ending, I was wrong. This really helped bring out the suspenseful scenes in the movie.

Along with the story was realistic, well-rounded characters that had wonderful actors portraying them. Every time characters interacted, I felt I learned something new about each one. There were moments where I just fell in love with the characters on the screen. I couldn't wait to see what they would do next.

Finally, the music. I absolutely loved how the music brought out the creepy, eerie parts of Scream. The music wasn't placed too soon, so the suspense wasn't ruined, and there was just enough music to make the movie feel balanced with the horror.

Scream was a great movie to watch. If you're looking for a good horror movie, Scream is the way to go.