3/4

1.5/4

2/4

0.5/4

1/4

1/4

0.5/4

3/4

4/4

2/4

4/4

2/4

3/4

3/4

3/4

4/4

1.5/4

4/4

0.5/4

3/4

2.5/4

3.5/4

3/4

2/4

0.5/4

Next 25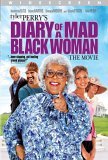 Diary of a Mad Black Woman
Would Jesus Wear Cornrows?
2.5/4 stars
White Americans are pretty reserved when it comes to anything but laughing or crying at the movies. Heckling, applauding, or spouting "No he didn't"s are rare from a mainly-cracker audience. Fortunately, when I saw Diary of a Mad Black Woman, we honkies were the minority. Surrounded by a crowd full of vocal, enthusiastic moviegoers indeed improved the movie – from, say, tripe to Vienna sausages.

Kimberly Elise stars as Helen, the housewife of powerful attorney Charles (Steve Harris). On their 18th wedding anniversary, Charles brings home his "new" ho (with whom he has a 5 year-old son) and immediately tosses Helen to the curb. Conveniently, the U-Haul out front (so, that's why it was parked there!) is full of Helen's things and a hunky driver (Shemar Moore – "The Young and the Restless") with corn-rows hired to take Helen anywhere. Lacking money and friends, she returns to her old neighborhood. With the help of her zany, gun-toting grandmother (played by Tyler Perry, who also adapted the screenplay from his own stage play), Helen starts over. She gets a job, attends local barbeques, and hooks up with corn-rowed Orlando, the U-Haul guy.

As soon as Helen's mother (Cicely Tyson) appears – wham! – our heroine goes where no romcom has gone before – into Jesus's loving arms! Tyson's lines are chock-full of Bible-beating rhetoric; Orlando is referred to as Helen's "savior"; a subplot involving a junkie mother has her saved by the Holy Spirit.

Christianity-aside, Diary is on the tolerable side within its genre. Kimberly Elise (probably the best thing about 2004's The Manchurian Candidate) is very likeable and less cloying than your Meg Ryans and Kate Hudsons. Also, commendably, Tyler Perry never goes overboard as the trash-talking grandmother. But it's still a romcom and, if you're not into those, it's puke-tastic tripe. If they are your bag, I recommend seeing the film during its opening week.