4/4

1/4

3/4

4/4

3/4

1/4

3/4

4/4

4/4

4/4

2.5/4

3.5/4

0.5/4

N/A

3.5/4

4/4

1.5/4

4/4

3.5/4

0.5/4

4/4

2.5/4

4/4

0.5/4

4/4

Next 3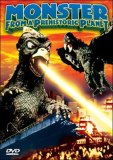 Monster from a Prehistoric Planet ( Daikyojū Gappa )
Gappa: The Trifibian Terror
4/4 stars
Gappa: The Trifibian Terror (or) Monster from a Prehistoric Planet.
This is a seriously strange little film. Although, I love it. I absolutely love it. It's my guilty pleasure, a film so amazingly bad, yet so brilliant, it defies space and time, transcends the planetary spheres to become something brilliant! Crappily acted, directed and shot so bizarrely mediorce in its camerawork, yet indescribably compelling.
The film is about some sociologists (I think) who go to some forgotten island and talk with the natives who worship and fear Gappa. An earthquake uncovers a cavern behind a satue of a beast, they go in and find a giant egg. And for some nameless reason, they take it back to Japan and it hatches into a baby Gappa. But of course the parents, yes there's two of them, come back to claim their child.
Now, the copy I bought was released by a comapny called 23rd Century Films, and the cover shows a big green title, a huge lizard like monster, which looks pretty damned awesome and the tag line, whihc is fairly daring: 'Bigger and better than Godzilla'. Needless to say, when I turned the box over, i was laughing insanely at the face of the actual monster, a sort of beaked bird thing with big black and white eyes staring like it just saw something startling. And this is epitomized in the best line of the film, which should be made a meme by 4chan, in which some Japanese businessmen are talking about the baby Gappa, and then one gets angry and jumps up, exclaiming 'Damn bird-lizards!'. It may not be funny here, but see the film, and you will be rolling around in hysterics!
This weird bastard of a film was directed by Haruyasu Noguchi. I love this film. This director needs an award of some kind. I don't care which one, just give him one!

I heartily reccomend this film. People need to see this, this 'Plan 9 From Outer Space' of Japanese filmmaking. Haruyasu Noguchi is the Japanese Ed Wood. This is no insult, this the highest compliment I have ever given! I think!

But seriously, get Gappa and watch it. It should be fairly cheap. I got it for £1 in Northern Ireland, and that's cheap!