1/4

3/4

3/4

3/4

4/4

3.5/4

3/4

3/4

3/4

3/4

3.5/4

3/4

3/4

3/4

3/4

4/4

3/4

2.5/4

3/4

3/4

1/4

4/4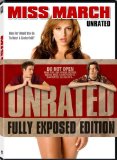 Miss March
Miss March, a Mr. E Movie Review
3/4 stars
Miss March, a Mr. E Movie Review

(Run time: 90 min. - Directed by: Zach Cregger, Trevor Moore - Starring: Zach Cregger, Trevor Moore, Craig Robinson, Raquel Alessi, Hugh Hefner)

If your looking for a new funny guy-movie then check out Miss March. A potty-humor filled comedy that crosses the hopeless buddy flick with the adventure's of a road trip sprinkled with a little bit of Playboy. So don't worry Miss March is a nicely paced storyline that make's for a good movie experience.

Eugene and Tucker are played by writer/directors/stars Zach Cregger and Trevor Moore, from the show "The Whitest Kids U'Know". Eugene and Tucker who have been friends since they were kids. After discovering a Playboy magazine Tucker becomes an odd sex crazed animal while Eugene stays on the straight and narrow but, after Cindi, played by Raquel Alessi, gets him to commit to having sex after he gets nervous, drunk, and accidentally falls down the stairs.

Four years later he awakes and finds out Cindi is now Playboy's new Miss March. Tucker convinces him that they need to go across the country to the Playboy Mansion to find and reclaim Cindi as his girlfriend. On the way they need to employ the help of their high school friend who is now a sucessful rapper named Horsedick.mpeg, played by Craig Robinson.

The quirky humor and craziness that manifests makes for one crazy movie! The comedic talent and timing that Zach Cregger and Trevor Moore collectively share is hillarious. I think that fans of this movie will be compelled to hit YouTube in search of their "The Whitest Kids U'Know" show!

Craig Robinson was funny as always, Raquel Alessi was perfect as the nottie turned hottie, and Hugh Hefner was cool like always.

I definately recommend this movie to anyone in the "under-30-at-heart" crowd. It's a cool flick!