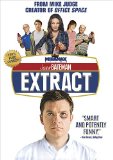 Extract
Boring and upsetting
0.5/4 stars
I was looking forward to this film for the last few weeks, I have always been a fan of Mike Judge' work; Office Space was undeniable good, Beavis and Butthead is a classic and Idiocracy, though it was weak on some points, was still a good time. Extract is not. All of the actors seemed like they only ran their lines once and unfortunately Bateman's character was the worst. He was boring to watch and his character was passive through most of the movie.

Ben Affleck's role as the sidekick is irritating; He spends the whole movie talking about drugs, which was funny-ish the 1st time. By the end of the movie his character is worn out and stereotypical.

Mila Kunis impressed in Forgetting Sarah Marshall but her character had little screen time, and when she was around she was 2-D. She quickly disappears in the middle of the 3rd act with a "redemption" scene that was just as un-fulfilling as the rest of the movie.

As for the plot; it was all over the place- Bateman and Affleck are two breeds of working class Joe's, they both work for in what I guess could be the corporate world. (Affleck at a Marriott bar and Batmen at his extract company.) and Judge tried to show the American working class and how easily you get into a routine and lose sight and unfortunately he didn't do a very good job. Throughout the movie we were constantly jumping from scene to scene about a law suit, a male gigolo, two separate affairs and a character that closely resembles Bill Lumbergh from Office Space. This movie was all over the place and instead of feeling any connection to the characters I left the theater confused and a little depressed.

I was looking forward to another social-comedy from Judge but was left with a film that didn't quite know what it wanted. Maybe his next will be better.