3.5/4

3/4

1.5/4

4/4

3.5/4

3.5/4

2/4

3.5/4

3/4

3.5/4

0.5/4

4/4

3.5/4

2/4

2.5/4

2.5/4

4/4

3/4

3.5/4

3/4

3.5/4

3/4

4/4

2/4

4/4

Next 6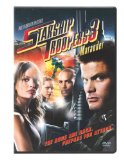 Starship Troopers 3: Marauder
Starship Troopers 3: Marauder Review
2.5/4 stars
In 1997, Paul Verhoeven released a true blood fest that glorified the idea of humanity vs. the giant space bugs. This title was known as Starship Troopers, an adaptation of the Robert A. Heinlein novel of the same name. For its time, the special effects were very well done, the "in your face" baditude gave a new insight of total militarism, and even though the story didn't have a great deal of depth behind it, it made up for that by simply being a fun night to watch two hours of humans getting torn limb from limb and exploding bugs and death experiences in the worst possible ways. The film even for its time was far from Oscar-worthy material, but Dwen Gleiberman best sums it up when he said, "it's ground zero fro a new generation of thrill seekers!". It spawned two direct to DVD sequels, Starship Troopers 2: Hero of the Federation, and Starship Troopers 3: Marauder.
So the film takes place 11 years after the first film, John Rico (Casper Van Dien) is now a Colonel stationed on the planet Roku San. One day, his old friend Dix Hauser along with all famous Sky Marshal Omar Anoke to pay a visit. But when the bases defenses mysteriously shut down, allowing the arachnids the Federation is still at war with in, the entire base is overrun with few survivors managing to escort the Sky Marshal to safety. Among the survivors, Rico is blamed for the incident and sentenced to death. At the same time though, the Sky Marshal along with Dix's fiancÚ Lola Beck crash landed on a planet known as OM-1. Dix manages to save Rico from execution, but only if he will save Lola from the desolate planet. More ensues, but revealing more would give spoilers.
As said before, the special effects were very well done for their time in 1997. Amazingly enough, Starship Troopers 3 looks just like a film made back in 1997. The CGI looks the same, the suits look the same, heck some of the sets also look the same. Taking it at face value, the visuals don't look too bad for a direct to DVD sequel, and it's probably clear that the producers wanted to maintain the same feel of the first one. If you're looking for a high budget visual feast, you best avert your gaze now, Iron Man this ain't.
The overall acting is about on par with the '97 film as well. The acting is lacking emotion, but it manages to be so low in quality it's just plain awesome. It also manages to contribute to the feel of a straight-faced camp affair with hit or miss humor. If you can't tolerate bad acting in any situations whatsoever, you'd best not tread this territory, but fans of the first film will feel right at home.
This film can appeal to a solid number of people, whether you're a fan of the original, enjoy watching bugs explode, or if you like the process of "How to turn your Communist Federation into a Pat Robertson Utopia in 90 minutes." (You'll see what I mean). The basic question is however: "Is this film worth watching?" This is one of those times where it falls under what kind of person you are. If you saw the first one and even dug it just a little, this title makes for a good rental or a buy if you enjoy it enough. If you didn't like the first one, there's nothing here that will turn you over, but if you're an evangelical who disliked the original, you might dig the aforementioned process.