3/4

3/4

2.5/4

1.5/4

3/4

3/4

3.5/4

3/4

3/4

3/4

3/4

3/4

3.5/4

3/4

3/4

3/4

3/4

3/4

3/4

3/4

3.5/4

3/4

3/4

3/4

3/4

Next 25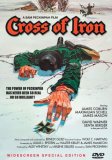 Cross of Iron
What will we do when we have lost the war?
3.5/4 stars
Director Sam Peckinpah was undoubtedly a flawed genius, his life blighted by serious alcohol and drug abuse, he nevertheless made a number of classic movies.
His Revisionist approach to the Western genre, the Wild Bunch had led him to true iconic status and Cross Of Iron (apologies to any Convoy fans) was his last great film.
Surviving an almost compulsory troubled production, Cross of Iron has many of Peckinpahs trademark touches, his slow motion action scenes and violent montages a standout.
James Coburn (in possibly his finest ever performance) commands respect and the absurdity and futility of war has never been bettered on screen.
Dynamic, angry and sometimes even surreal, Cross Of Iron quite comfortably holds its own on any list of greatest ever War films.