3/4

3/4

2.5/4

1.5/4

3/4

3/4

3.5/4

3/4

3/4

3/4

3/4

3/4

3.5/4

3/4

3/4

3/4

3/4

3/4

3/4

3/4

3.5/4

3/4

3/4

3/4

3/4

Next 25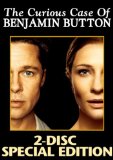 The Curious Case of Benjamin Button
Your life is defined by its opportunities...
3/4 stars
Spellbinding and wildly ambitious fantasy which celebrates the journey of life through all its joy, sadness and regrets.
Using state of the art (but very subtle) CGI, (check out an extremely young Brad Pitt), Button is a delightful and admirable vision of an unusual mans leisurely odyssey from birth to death or old age to youth as is the case.
Pitt has an innocent like charm which reverberates throughout the film and he is ably supported by Cate Blanchett and the wonderful Tllda Swinton.
A curious reminder of mortality, Button is an imaginative, charismatic and heartbreaking tale brought to life by an extremely talented and ultimately audacious director.