3/4

3/4

2.5/4

1.5/4

3/4

3/4

3.5/4

3/4

3/4

3/4

3/4

3/4

3.5/4

3/4

3/4

3/4

3/4

3/4

3/4

3/4

3.5/4

3/4

3/4

3/4

3/4

Next 25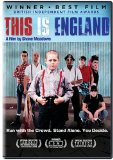 This is England
This is Brilliant
3.5/4 stars
Shane Meadows continues to justify his tag as the British Martin Scorsese with this riveting portrayal of life in Thatchers Britain circa 1983.
Thomas Turgoose plays Shaun, a 12 year old boy a troubled and alienated boy who is bullied at school. Shaun's father has recently been killed fighting in the Falklands War.
Finding friendship with a gang of jovial and older skinheads, Shaun gradually becomes accepted and discovers a world of Ben Sherman shirts, Doc Martins, Parties and girls.
The return of Combo (Stephen Graham), an older more extreme skinhead threatens to tear the group apart and Shaun believing he has found a suitable role model begins to drift into a more dangerous and radical lifestyle.
Dead Mans Shoes is one of my personal favourite movies of the 21st century, it is a raw and unflinching film depicting life at the bottom end of British society, This Is England carries on this theme but moves the action back 20 years.
An astonishingly understated performance by Turgoose matched by a fierce (and almost sympathetic) one by Graham is the anchor of this gripping movie. In fact all the performances are top drawer and at times you almost believe you are watching a documentary.
Meadows seems to have been meticulous with the wardrobe and the sets and one of my impressions was of actually watching a film made in 1983 (although with very high production standards).
Grahams racist, almost psychotic character is not a stereotype, hes real in a brutal and raw way and he reflects a violent and selfish British society that existed in the early eighties.
The racist overtones are handled well and we are subject to a look at what life was really like for Black and Asian people in Britain at this time.
I have seen this film likened to American History X on some Websites which I think is nonsense, the racism card is only a small part of This is England whereas in x its the whole story.
This Is England is essentially a coming of age movie, a dark, grim, relentless and at times very funny film that also offers a little bit of hope, Woody's skinhead gang look like serious troublemakers but in actual fact are genuinely nice people. They just happen to be young social outcasts looking to survive with nothing to look forward to but a bleak future.
Combo although morally repugnant almost finds redemption at the end and he is haunted by the life he has not had and the life he never will( his scene with Lol in the car borders on the heartbreaking).
Meadows has delivered the goods again, his direction is faultless and the soundtrack is brilliant. (although one of my only quibbles concerns a few to many Reservoir Dogs type procession shots).
This is England is without a doubt one of the best movies of the year and its nice to see a British director sticking to his guns and proving that this country can provide more than Period and costume dramas and East end gangster flicks (Guy Ritchie, take note).