3/4

3/4

2.5/4

1.5/4

3/4

3/4

3.5/4

3/4

3/4

3/4

3/4

3/4

3.5/4

3/4

3/4

3/4

3/4

3/4

3/4

3/4

3.5/4

3/4

3/4

3/4

3/4

Next 25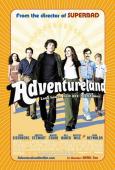 Adventureland
Fun and Games
3/4 stars
A deft rites of passage movie with its feet firmly in the Rom-Com mould, Adventureland is an intelligent, quirky and nostalgic slice of 1980s life exploring the pitfalls and pratfalls of a gawky teen (Jesse Eisenberg) as he looks to win over the girl of his dreams (Kirsten Stewart) who has a few issues of her own.
Definitely a gentler, more intimate and much more subtle film than director Greg Mottolas previous effort "Superbad", Adventureland has a pitch perfect script, super cool acting and a decent quota of laugh out loud moments.
An excellent retro film with a sublime soundtrack and believe it or not, the whole story's set in a funfair, how good is that?