2.5/4

3/4

2.5/4

3/4

3.5/4

3/4

3/4

2.5/4

3/4

3.5/4

2.5/4

3/4

2.5/4

2/4

2/4

3/4

3.5/4

3/4

3/4

3.5/4

2.5/4

2.5/4

3.5/4

3/4

2.5/4

Next 25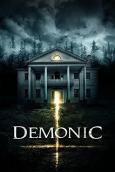 Demonic
Demonic Raises a Little Hell
2.5/4 stars
Demonic is a hodgepodge of ideas that almost works out. On one hand, you have a crime thriller, following two police offers, a husband and wife team (Frank Grillo and Maria Bello, who are investigating a multiple homicide in a house with a gruesome history. But, through videotape evidence, we also have a found-footage aspect following a group of students who explore the house in order to A) help John (Dustin Milligan) figure out why he is having visions of his mother inside the house and B) help Bryan (Scott Mechlowicz) hopefully catch ghosts on camera.

Of course it's not the cut-and-dried as we find out John's mother was the lone survivor of the horrific events involving a seance and some kind of satanic cult - and his animosity towards Bryan is heightened by their mutual involvement with Jules (Megan Park), who also happens to be pregnant. Despite the setup, however, the film never quite finds its footing and the back-and-forth between cop drama and found footage becomes more distracting than anything else.

James Wan (the twisted mind behind The Conjuring) served as a producer, but it's just not the same without him behind the director's chair. Will Canon just can't compete, as most characters are either one-note or just not as interesting as they should be. Even Grillo, who cut a find figure in The Purge series, isn't given that much to do.

That doesn't mean the film is entirely without merit. There are some classic scares, as well as making the house appear suitably frightening, but the big twist at the end is a bit of letdown. At least the movie doesn't rely on an abundance of violence - it at least plays things smart and let's your imagination do a lot of the work.

Demonic isn't going to join the ranks of great horror films, but it also shouldn't be shuffled aside. It has its moments and if you're looking for a decent scare on a dark night, it's a solid choice.