2.5/4

3/4

2.5/4

3/4

3.5/4

3/4

3/4

2.5/4

3/4

3.5/4

2.5/4

3/4

2.5/4

2/4

2/4

3/4

3.5/4

3/4

3/4

3.5/4

2.5/4

2.5/4

3.5/4

3/4

2.5/4

Next 25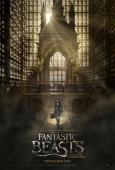 Fantastic Beasts and Where to Find Them
Fantastic CGI and How to Harness It
3/4 stars
The Harry Potter series has been one of the most lucrative for all parties involved. It was only a matter of time before the studio decided to go back to the wondrous wizarding worlds that J.K. Rowling brought to life. Even though Fantastic Beasts has little source material to go by (a slim bestiary written for charity), Rowling herself has written the screenplays for this new franchise - one that is now expected to span five films - and, I'm happy to say, things have gotten off to a good start.

The world of Fantastic Beasts is set 70 years before the events in Harry Potter and, for the first time, we get to see how magic is handled in America as Newt Scamander (Eddie Redmayne) sets foot in New York City with a case full of magical creatures. Scamander is a Magizoologist - that is, a person heavily invested in finding and protecting various magical creatures around the world, many of which are endangered or misunderstood by the population at large.

Soon after arriving, however, Scamander loses his magical case to a No-Maj (the American version of a muggle), a canning factory worker with dreams of becoming a pastry chef, Jacob Kowalski (Dan Fogler). He also comes to the attention of a disgraced auror who keeps sticking her nose where it no longer belongs, Porpentina Goldstein (Katherine Waterston) and once a few of his beasts are let loose, he learns the city has been under siege by a mysterious creature and that the city is at the breaking point of discovering the extent of the wizarding world.

As Scamander and Kowalski hide out at Tina's house, where they meet her sister, a gifted at legilimency (aka reading minds) named Queenie, who quickly develops a liking to Kowalski. Before more damage can be done, Scamander and Kowalski sneak out in order to hunt down the missing beasts.

The film really is a showcase of some fantastic special effects. The bests themselves, from the trinket-loving Niffler to the awe-inspiring Thunderbird are created with a lot of talent. The CGI is in full force, but, for once, I think the special effects enhance the overall experience rather than detract. The film also does a great job at recreating a 1920s-era New York City - wardrobe, cars and the like - very well.

Casting seems solid. Redmayne is known for more dramatic work (think The Theory of Everything or The Danish Girl) but he plays Scamander well - a quiet and awkward but quite emotional when it comes to his beasts. Fogler, meanwhile, adds much-needed levity to this somewhat darker version of the wizarding world as the No-Maj experiences this magic for the first time. Colin Farrell is along as a no-nonsense auror. Samantha Morton plays the abusive leader of the cult-like New Salem Philanthropic Society - whose goal is to wipe out witches and wizards. She adopts orphans to this effect, one of whom is played by Ezra Miller, a sullen teen who endures humiliation and beatings, but who wants nothing more than to join the magical world himself.

Overall, the film is solid. It delivers plenty of action, humor, drama and great effects. The downside is that amidst all the spectacle, the characters are given not nearly enough depth. Likewise, the film is a bit heavy-handed in its attempt to create social anxiety between the wizarding and non-wizarding community.

All in all, however, the movie mostly clicks and if David Yates can stick to his guns, and Rowling can deliver on the source material, I don't see why we will get anything less than a solid franchise going forward.