3.5/4

3/4

3/4

3.5/4

2.5/4

2.5/4

3.5/4

3/4

2.5/4

3/4

2/4

2.5/4

3.5/4

3/4

2/4

3/4

2/4

2.5/4

2/4

3/4

3/4

3.5/4

3/4

2/4

2/4

Next 25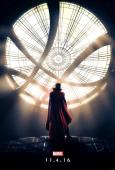 Doctor Strange (2016)
Strange Days Ahead - MCU Still On the Right Path
3/4 stars
Even with Guardians of the Galaxy under their mantle, the Marvel Cinematic Universe has seen anything quite like Doctor Strange. While it does have plenty of action - Strange is a much more mystical and spiritual experience than the rah-rah Avengers. At times I questioned if I was even watching a Marvel movie at all - and that's not a bad thing. In the end, it will be interesting to see how they integrate magic into the super hero world, but if anyone can pull it off, it's the wizards behind this sprawling epic known as the MCU.

We know right off the bat this is going to be something different when Mads Mikkelson squares off against Tilda Swinton - after beheading a poor librarian. Orange sparks of magic fly and a book written in a strange language is missing a few crucial pages. Portals open, the world is manipulated in wondrous ways and maybe your mind is blown just a little (but, in the words of the great Bachman Turner Overdrive you ain't seen nothing yet) and this introduction is a perfect way to immerse yourself in a very different world than we've seen.

Before getting to that again, though, we are also introduced to Doctor Stephen Strange (Benedict Cumberbatch). Strange is talented but he is also arrogant and distant - thinking himself above everyone else, including one-time flame Christine Palmer (Rachel McAdams). While driving a very expensive car on the way to yet another speaking engagement, Strange crashes and, while he survives, his hands are seemingly irreparably damaged. While he is able to make some progress, it's not enough - fearing his livelihood and life is over, he seeks answers and finds the story of one Jonathan Pangborn (cameo from Benjamin Bratt essentially) - a man who was paralyzed but found the will to walk again. After tracking him down, he learns of a place in Nepal that he trained at.

Thus Doctor Strange is introduced to Mordo (Chiwetel Ejiofor) and The Ancient One (Swinton) who - in one of the trippiest scenes I have seen in a long time - introduces him to the multi-verse - alternate universes and worlds upon worlds. He then learns of Kaecilius (Mikkelsen), a former student who went rogue, seeking eternal life, who seeks to plunge the world into darkness - by breaking down the barriers and letting a world-eating monster have his day.

The rest of the film follows Strange as he seeks to learn the ways of magic - and maybe find his destiny. The special effects in this one are top-notch - some of the finest in the MCU as far as I'm concerned. Despite all the controversy of casting Swinton as The Ancient One, I thought she did a fine job, as does the rest of the cast. I especially like Benedict Wong (as, uh, Wong) - a stone-faced librarian who gets some of the best scenes with Cumberbatch as he attempts humor with the man. The score from Michael Giacchino is also one of the finest in the Marvel lineup (right up there with the music selection in Guardians of the Galaxy).

If there's anything holding this one back it's that it introduces way too much way too fast. Magic and multiple worlds opens up a whole new can of worms for the MCU and it seems almost too constrained - usually people complain about movies being too long for their own good, but in this case I wanted more. While all the characters are good, most could have been fleshed out more. Mordo is going to be a big part of future films but we really learn little about Ejiofor's character. Aside from Strange himself, we really don't dig beneath the surface of most of the people on screen.

I would say this aligns nicely with the rest of the MCU, as different as it seems, and this series continues to be one of the strongest and most impressive in theaters. Marvel and Disney have yet to make a major misstep with their films or characters - no small feat considering how many films they already have under their belts. As long as the quality remains this good, I'll continue watching.